Ladies Only Jiu Jitsu Class
Are you a woman looking to get fitter, learn something new and have fun at the same time? BJJ is for you.
Our Ladies only BJJ classes are designed to allow our female students to train together as a team. By using regular feedback the classes have been structured to be useful for everyone. They are taught by a female instructor who can give our students the best way to use techniques that will submit anyone.
We found out that as well as using the classes to have fun, our ladies enjoy using this time to go over any technical difficulties that may have come up from previous sessions.
Is the class taught by a man or woman?
Before she received her purple belt, Maia, the ladies instructor, was the top ranked female blue belt in the UK.
The academy regularly holds Ladies Only Open Mats and arranges seminars with some of the best female Jiu Jitsu practitioners in the world. Contact us to come and join in a class.
Maia has been training for since January 2015. You can learn more about her from her blog https://battlegirlblog.wordpress.com/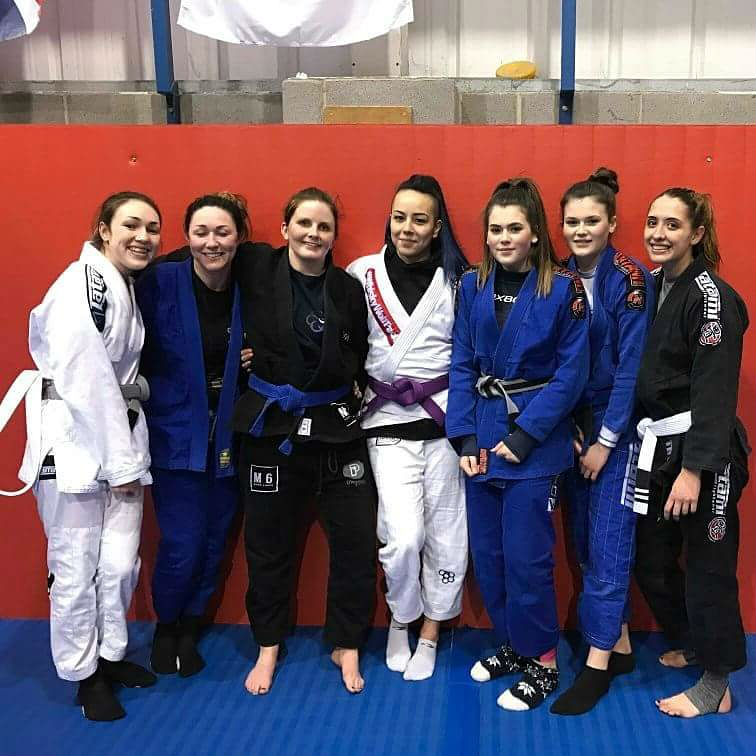 What Some of our Ladies Team have to say
Andrea Mart – Blue Belt – "It has been 3 years since I reluctantly stepped on the mats, (after several months of friendly coercion from my daughter and husband) but now I can't actually imagine not training with the team, and even wondered why I have even thought I wouldnt like it in the first place! Friday's ladies class is a great way to start your jiu jitsu journey for any woman who is a little apprehensive, the team and coaches are really friendly and supportive. I would 100% recommend coming along to join the team. However I do need to warn you BJJ can be highly addictive!"
Paula McHale – Blue Belt – "I joined the 5rings team about 6 months ago after moving to Sheffield. I was welcomed into the gym from day one. The women are super supportive and the level of jiu jitsu is high. Most of all, I have fun at all the classes which keeps me motivated. The coaches are a really knowledgeable and approachable. The women's class on Fridays, taken by Maia, is great. I joined the club not long ago but I already feel like I've got a whole bunch of friends and supportive team mates. Would highly recommend to any women out there thinking of giving it a go"
Emma Piddington – Blue Belt – "I was very apprehensive to try BJJ but all the coaches and my future team mates at 5 Rings were very welcoming and encouraging and I soon settled in. It's now part of my weekly routine and I have got so much out of it, I'd recommend anyone male or female give it a go."