No Gi BJJ
No need to ever train in the gi.
No Gi Submission Wrestling is one of the fastest growing sports on the planet. It mixes the takedowns of Wrestling, the groundfighting of BJJ and leg locks of Sambo. With the popularity of UFC and ADCC, the No Gi classes have students from other arts join us on the mats to learn techniques to add to their own style.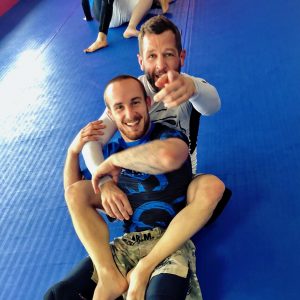 Five Rings Grappling Academy believe's in an approach where students feel as comfortable whether wearing a gi or not. Whether standing or on the ground. We regularly hold seminars and classes with some of the best fighters in the world. This gives our students the opportunity to learn cutting edge techniques with the best.
Our No Gi BJJ Classes are beginner friendly and structured so that students can progress without ever wearing a gi. They take place in Sheffield every Tuesday and Saturday and Mansfield every Thursday and Sunday. 
What are the main differences between Gi and No Gi?
There are many differences between the two. People can even argue now that they are almost separate sports as there are certain submissions in No Gi BJJ that are illegal in the Gi (heelhooks, twister spinelocks etc) as well as certain positions (Inside Sankaku, Saddle). The main difference, though, is what you wear. In the gi you wear a jacket and trousers which can be gripped and used against you to get a submission hold or choke. The gi is also used to control different guards and set up different sweeps. In No Gi BJJ you wear a rashguard and shorts and these aren't allowed to be held onto to try to control you. It is a very pure form of grappling that can rely more on speed and strength.