1 Week Free Trial - Click Here to Contact Us and Redeem
Check Our Timetable by Clicking Here
BJJ Mansfield is the only place to learn with 3 black belts bringing together Brazilian Jiu Jitsu, Judo, Freestyle Wrestling and Submission Wrestling. Welcome to Five Rings Grappling Academy.
At Five Rings Grappling Academy we specialise in Brazilian Jiu Jitsu, however, we have an open mind to all Martial Arts. Here you can train every session with a 2nd degree BJJ black belt with 20 years experience in the art.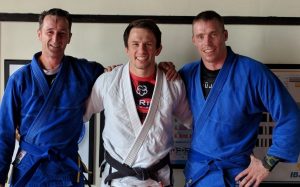 Is Jiu Jitsu safe for you?
Your safety is our main priority with our training flooring being double matted at 80mm (standard gyms only have 40mm). Hygiene is also extremely important so our mats are cleaned and sprayed daily.
Five Rings Grappling Academy is also the only jiu jitsu academy in the area that offers fundamentals and advanced Adult BJJ Classes six days a week. As well as KIDS BJJ classes Tuesdays, Thursdays and Saturdays. We also have 2 daytime sessions on Monday and Friday.
The cost of our unlimited adult membership is only £15 per week. Emergency service, armed forces/veterans and student discounts are available.
Benefits of Jiu Jitsu.
Everyone who walks through our doors, comes to train for their very own reasons. You may need a way to relieve stress, get fit, have fun, meet new people or even just learn something new and different. As well as the highest qualified BJJ instructors in the area we can grade our students, in house, all the way to black belt.
Here, you will be training Jiu Jitsu in a place that traces it's routes to the source of the art. Not only in the UK but all the way back to Carlos Gracie in Rio, Brazil so you know that you are in the best hands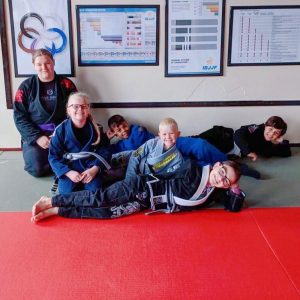 Whether you are looking for fitness, the feeling of confidence or even an escape from the pressures of everyday life, the team here have a proven system and a friendly manner to guide you to where you feel you want to be.
Check out our Youtube Channel here
1 Week Free Trial - Click Here to Contact us and Redeem
"Excellent facility with 3 black belts and a handful of brown belts makes the instructional second to none in the area. Everyone's very friendly and the training can be as tough as you want it to be. Both my kids train as well and I highly recommend the BJJ journey. Head Instructor Paul boasts a wide variety of skills and experience yet is very humble.

Brian Smyth
"My kids have trained here for over 2 years. They have learned so much more than BJJ. It's given my boys heaps of confidence, great friendships and valuable life skills. A fab team.

Jeremy Stone
"This is without a doubt the best place to train! Keeping you fit while learning how to choke people. What's better than that? I've been training around 2 and a half years loved every training session, made some great friends along the way also. Coaching staff are awesome and friendly happy to help with any queries.

Callum Hodgson