Kids BJJ
What does it take to be a champion in life? Can a martial art like Kids BJJ support a parent's instruction?
To be a champion in life, people need to have a strong set of values and a solid character.  This will give them the perseverance to achieve their goals. Five Rings Champions Kids BJJ Programme was created to provide children with an environment that allows the understanding of core values. Values like focus, discipline, persistence and respect. Life will give your child set backs and it is the way these set backs are dealt with that will determine how they live their life. Our programme can be pivotal in supporting their on-going development.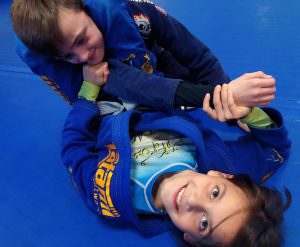 NSPCC statistics state that over 45,000 children contacted Childline last year due to being bullied. Bullying is a very real problem within UK schools and, unfortunately, it doesn't seem to be just going away.
Youngminds.org.uk say that as many as 70% of all children will experience bullying at some point.
It is not possible for you to be there every minute of every day to protect your child. With Five Rings Champions program you can help us to give them the tools to protect themselves mentally, as well as physically.
Make your child Bully-Proof in mind and body
Improve children's social skills
Enhance self-confidence
Better understanding of goal-setting and working towards them
Learn our Self-Defence System
Increase focus, energy and concentration
Enjoy significant gains in overall fitness level
Become part of the Five Rings Family
Contact Us here to book your Free Trial! Check the timetables on our academy pages for Mansfield and Sheffield